An Interview with Assemblyman Eric Linder, Member of the Assembly Local Government Committee
Thu, 11/12/2015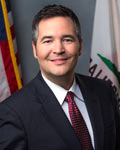 We had a chance to sit down with several members of the Assembly Local Government Committee to discuss their perspectives on Local Government, being involved, and what it's like to work in state government. Join us as we sit down with Assemblyman Eric Linder from Corona.
1. What is your top priority as a member of the Local Government committee?
My first priority is preserving and protecting local control. The first question I ask about any bill is, "how does it affect local control?" Government is from the ground up - people should be in control and know what is happening.
A big local government focus for me is some of the cities in my district — 2 of the 4 newest cities in California are located in my district. And due to Sacramento politicians moving the goals posts, they are functioning without full funding. Right as these cities were opening their doors, the Vehicle License Fee was repealed, and the money was taken away from these brand-new cities. What that boils down to is how the public is served best — people are affected by government the most at the local level and that needs to be our focus. A great example is how public safety is affected by these Sacramento decisions; how many officers are on the street?
Another way the state tries to infringe upon local government is to peal protections away from Prop 13 and lower the 2/3rds voting requirement. They are trying to pass taxes without the required 2/3rds vote.
2. What do you think is the most critical issue facing local governments right now?
When you have 80 members, and each has a pet cause, finding priority among all of those is difficult. The state has a hard time prioritizing issues and funding.
3. What do you think is the biggest single thing local governments can do for their citizens?
The basic priority of local government is the protection of citizens. Recently, the courts considered it unconstitutional for cities to determine "where children congregate" in relation to designating areas that sex offenders may or may not have access to. Local governments should be able to define this — it boils down to the ability each city has to protect the public.
4. What does 2016 look like for cities in relation to state government? Any new laws cities need to be aware of?
The big topic in 2016 is going to be the draught. Riverside is a good example of a city that has a 4-year water supply. Though not running out of water, and still conserving water, Riverside is still being penalized. We should be passing common sense bills to address the drought like AB 1 by Cheryl Brown. AB 1 allows citizens to let their lawn go brown and not be fined for it.
Local governments should also be aware of changes made this year when it comes to local elections. SB 493 by Sen. Canella allows general law cities with less than 100,000 people to switch from at large city elections to district-based elections, without the need to submit the ordinance to the voters for approval. In addition, both AB 277 by Assm. Hernández and AB 182 by Assm. Alejo made changes to how the Ca Voting Rights Act can be applied to cities and counties for possible violations. All of these bills could affect cities in my region and around the state.
5. What message do you have for the cities in your district?
When information comes from someone in the district, the information is more valuable. Each person who takes the time to communicate with me, with the office, is letting us know what is happening in our own backyards. People who are in our neighborhoods, our streets, our community — it is important to keep a strong dialogue between the local community and the representatives at the state level.
6. What should city leaders be focused on in the coming year?
2016 is the year of transparency. We, as a caucus, are trying to promote it. With all the new tools available, it's easy to be transparent — people can then make the best choice of who will represent them. Transparency is key. City leaders need to maintain relationships at the state and federal levels. This is critically important.
7. With 2/3rds of Legislators coming from a Local Government background, what would you share or what advice would you give to those local leaders that are considering running for higher office?
As part of the 1/3rd that didn't come from local government, I have a different background than most members of the Legislature. So first, if you are thinking of running for office, do it! If you believe you are a good representative for your community — we want you! We want you if you are pragmatic, smart, and passionate for your community. Finally, it is important to keep in mind that your record reflects something that you can be proud of; especially if you are considering running for partisan office.
Any final thoughts?
We have advisory committees that meet regularly in our district — everything from local government leaders, educators, PTA members, school board members, business owners, and public safety members — anyone can be a part of a committee. We do this to hear local opinions and keep the community our focus. It helps craft policy and influence opinions. It helps build partnerships at the local level and I would recommend others to do the same. Leadership starts at home. Local concerns are more important than an agenda. Building partnerships and finding needs in our community to address those concerns provides valuable information — diversify your contributors as much as possible by having as wide a variety of input as possible.